Venue Information
Carlton's La Mama Courthouse, at 349 Drummond Street, has been managed by La Mama since the mid-1990s, and is serving as both our primary performance venue and office until our original home on Faraday Street is rebuilt and restored in early 2021.
Accesible Parking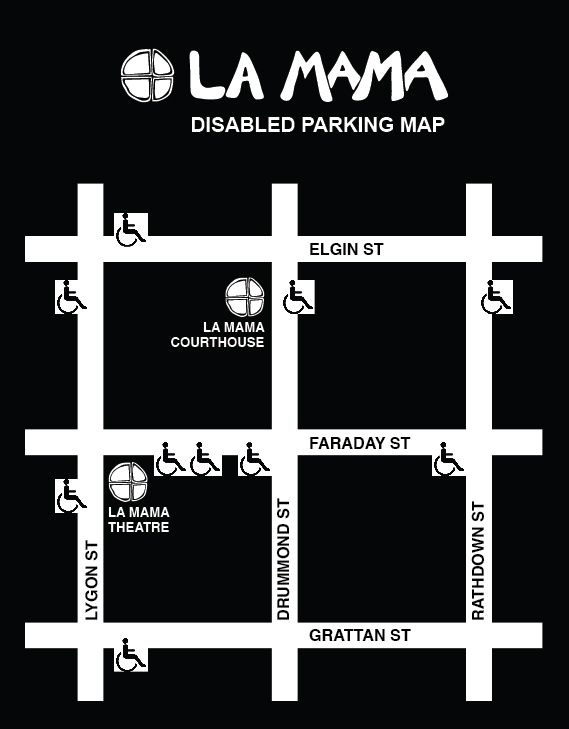 Getting to La Mama Courthouse
The La Mama Courthouse is located at 349 Drummond Street, Carlton, behind Lygon Court and the Nova Cinemas, and close to Elgin Street.
Finding parking near La Mama can be very difficult, especially on Friday and Saturday nights, so if you need to drive, make sure you allow plenty of time to find a park.
If you ride a bike, you'll find plenty of bicycle parking at the back of Lygon Court on Drummond Street, and also in the forecourt of little La Mama on 205 Faraday Street. The closest Melbourne Bike Share station is at Argyle Square on Lygon St, south of La Mama. Buy a helmet from the 7-Eleven on Lygon St along the way.
Accessibility
La Mama Courthouse has recently undergone extensive renovations, which has significantly improved audience facilities, as well as making the venue fully accessible for everyone. This means that we are wheelchair accessible for both audience and artists. However, the building is Heritage listed which means there are some things that are outside of our control. The doorway to the theatre is approximately 1 metre wide if you are a wheelchair user with a mobility device wider than this please get in touch before the show so we can try to meet your access requirements in the most comfortable way for you myf@lamama.com.au or (03) 9347 6948.
Public Transport
Trams
1 & 6 Stop #112 Lygon St / Elgin St Walk east along Elgin St and turn right on to Drummond St, it will be on your right (4 mins)
1, 3/3a, 5, 6, 16, 64, 67, 72 Stop #1 Melbourne University / Swanston St Walk east along Faraday St and turn left on to Drummond St, it will be on your left (7 mins)
Buses
200, 207 Lygon St / Elgin St Walk east along Elgin St and turn right on to Drummond St, it will be on your right (2 mins)
250, 251 Elgin St / Rathdowne St Walk west along Elgin St and turn left on to Drummond St, it will be on your right (3 mins)
Train
Melbourne Central Station, followed by a tram or bus ride above
Address
349 Drummond Street, Carlton VIC, Australia