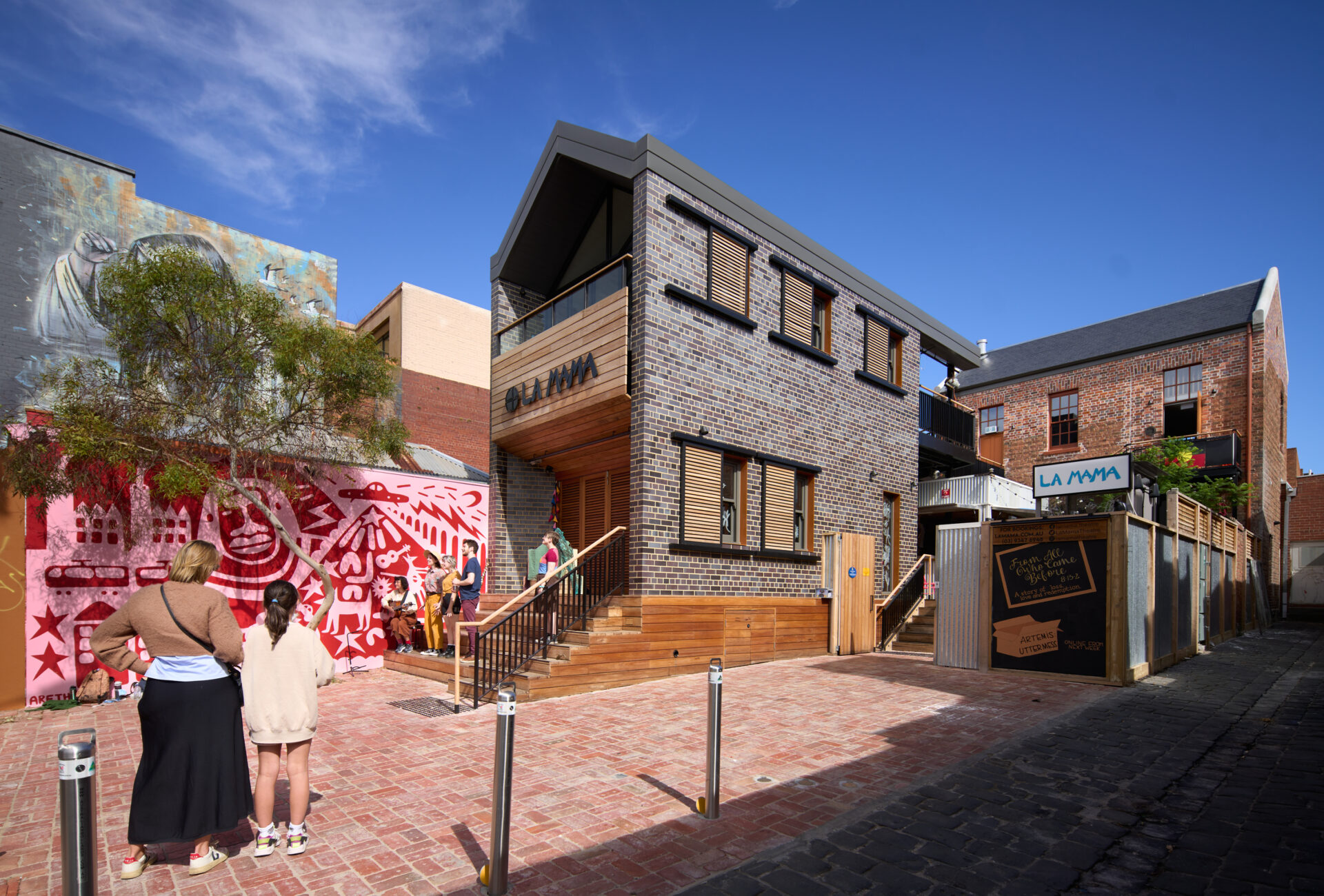 La Mama Pathways
Run in partnership with Australian Plays Transform (APT).
Our La Mama Pathways Program has successfully concluded its weekly sessions, offering exceptional professional development opportunities for emerging and mid-career writers. The program, facilitated by Mari Lourey and Glenn Shea, featured a roster of experienced playwrights, educators, directors, and prominent theatre makers from Victoria's vibrant theatre sector. We extend our gratitude to Peta Murray, Rachael Maza, Emilie Collyer, Bella Vadiveloo, Chris Mead, Liv Satchell, Michelle Lee, Zoey Dawson, Kath Papas, and Lara Week for their valuable contributions.
Following four months of engaging sessions, we held an intimate in-house pitches and presentation day, which turned out to be a remarkable experience for all involved. Moving forward, our 12 Pathways Writers will embark on the next stage of their project's development, working closely with their assigned mentors and dramaturgs.
We would also like to express our gratitude to our external advisory panel for their generous contribution of time and expertise during the challenging selection process of selecting our 12 participants out of over 140 applicants, a truly wonderful and diverse group of artists. Thanks also to the mentors and dramaturgs now helping to guide our participants further into their journey of creating and writing the best contemporary theatre they can.
Feedback on the program has been overwhelmingly positive, highlighting the sense of community and the opportunity for regular dialogue and exploration of various aspects of theatre. Participants greatly appreciated the diversity of guest lecturers, their distinct artistic journeys, and the range of perspectives and skills they brought to the program. This diversity proved integral to learning different approaches to writing and theatrical creation, as each week was led by someone with a unique perspective.
The 15 sessions provided a deep and enriching learning experience, particularly for those who had not received formal writing training. Participants expressed their gratitude for the chance to learn from incredible creatives, including both the facilitators and fellow participants. They found the program invaluable for delving deeper into storytelling, focusing on what truly matters, and nurturing self-care throughout the creative process.
The program fostered a vibrant community of creatives, allowing for meaningful connections and relationships to form among participants and facilitators. The supportive environment in the room was cherished by all, providing a nurturing space for artistic growth. La Mama's 2024 program will present the works of three of the 2023 Pathways participants and La Mama is committed to working with Pathways alumni to present works developed throughout the program.
We look forward to sharing their works towards the end of the year and will keep you updated on future plans.
We continue to seek funding to support and expand our initiatives, ensuring ongoing opportunities for artists in the future. Watch this space for exciting updates!
We are grateful to the Australian Government and the Australia Council, its arts funding and advisory body, for their valuable assistance in making this project possible.
---
Pathways 2023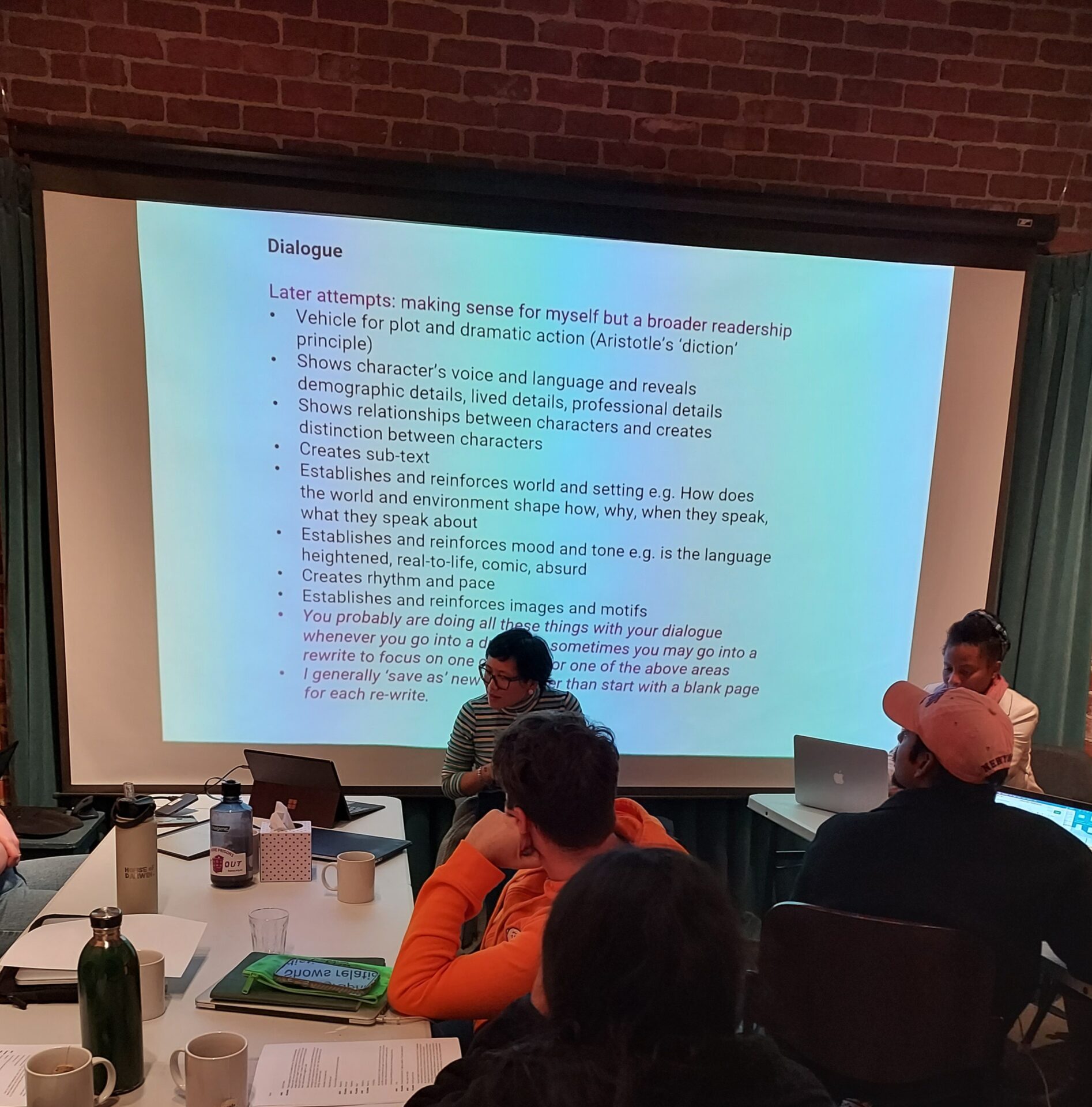 Pathways 2023 Participant Feedback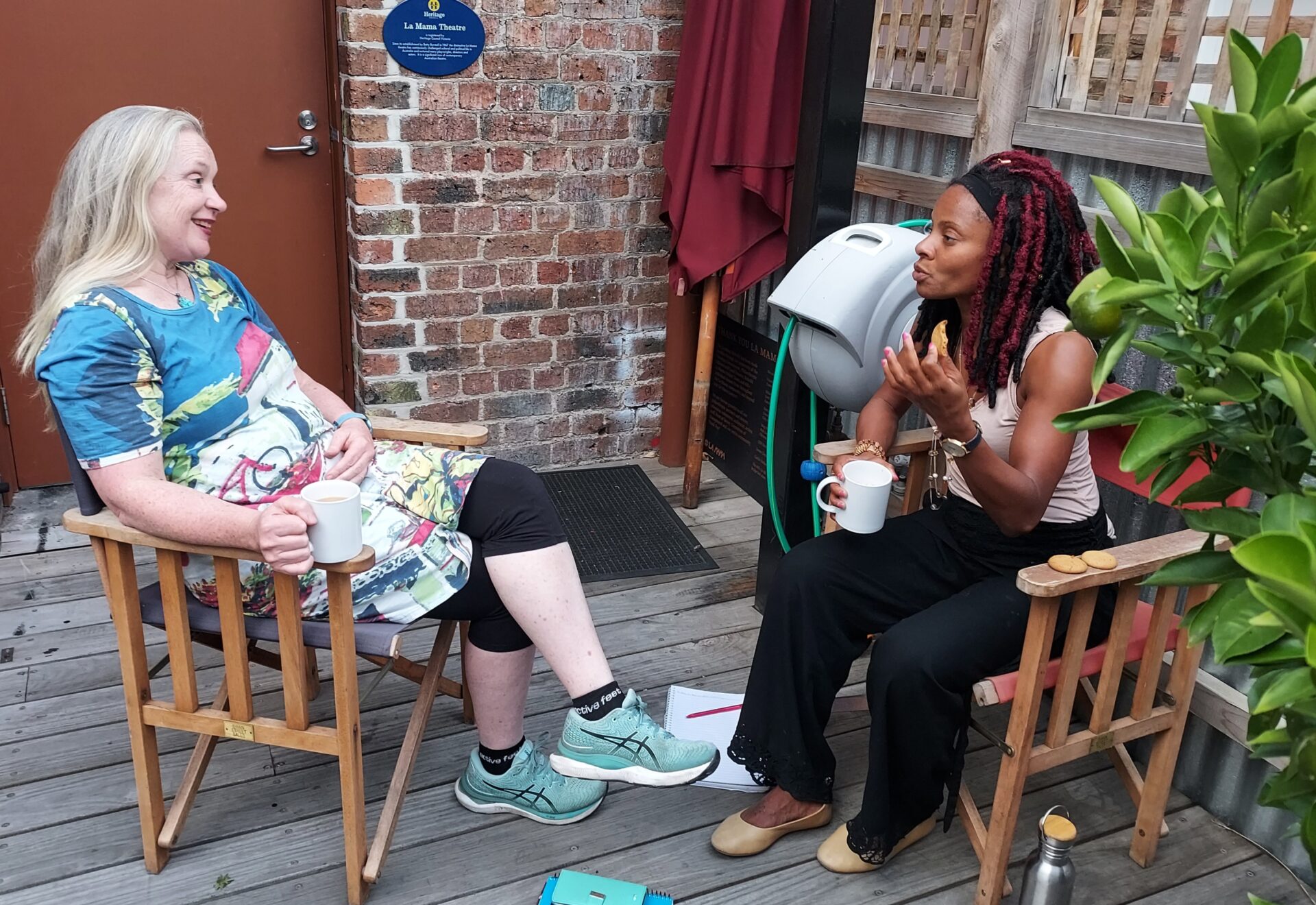 The Pathways program is a rich and thoughtfully curated development container for playwrights at an early stage of their career. Its most advantageous element is the bringing together of like-minded, but radically different artists, to converse, share, learn from and be inspired by each other. For though, we are fish in the same pond – our paths may never have crossed.
We also learn the technical rigours of playwriting and how to break them and are introduced to some of Melbourne's greatest minds and practitioners in this space. It is an honour to be to learn first-hand from stalwarts like Rachael Mazza, Peta Murray and Emilie Collyer.
There is also the invaluable gift of a container to write, to dream, to devise your next work. I would not have progressed this far in my writing at this time, if it wasn't for Pathways. I knew this would be a life-changing opportunity when I applied, and it is indeed turning out to be.
– Amarantha Robinson
The communion. Pathways started as a workshop and finished as a community. The consistency of discussing theatre and many other areas of theatre on weekly basis. The feedback of your work from new voices, new heads. This experience has healthily shaken my practice, questioning the 'whys?', the 'don'ts', in a beautiful safe space, welcoming mistakes and doubts, and all of this accompanied by masters of the craft. This process has definitely been a 'before and after' for my writer-self. I'm so honoured to have been part of this.
– Rodrigo Calderón Tobar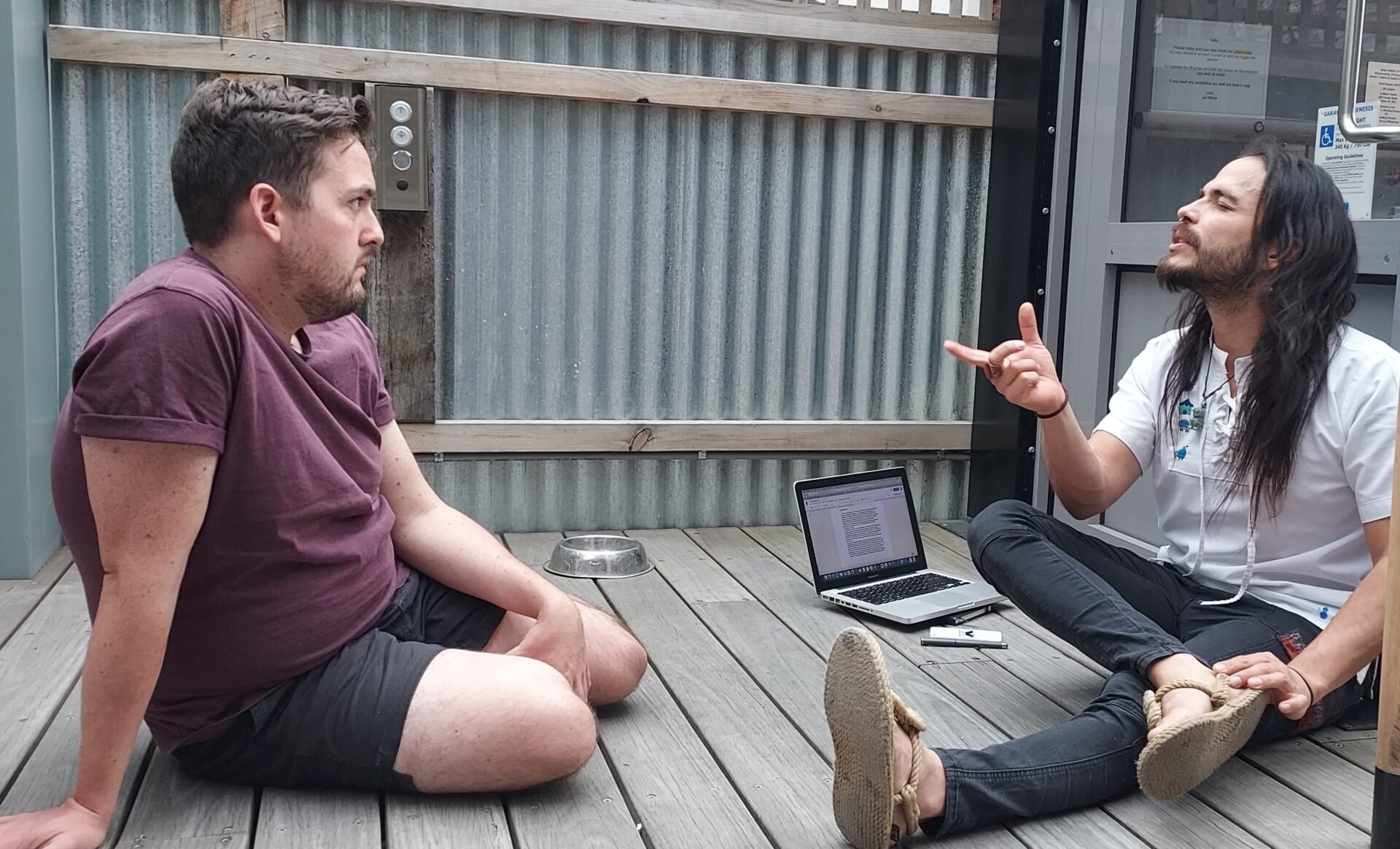 As an emerging artist this has been a phenomenal opportunity to network and connect with a broad collective of experienced artists. I have not only learnt loads from all the participants (not just our lecturers!) but have fostered both personal and professional relationships with my fellow creatives. I am certain all of us will keep in touch and most likely work together in the future. I do not believe I would have been able to make these high-quality connections this fast through any other avenue – what school brings together performers with forty years of experience and newbies and treats them all as equals? None that I know of.
The quality of training provided by Pathways has been excellent. The lecturers and creatives involved are of the highest calibre and the knowledge I am gaining is invaluable. I feel empowered to create my own work to a high standard rather than mould my voice to an institution's needs. I feel supported as an independent artist and encouraged as an emerging voice.
– Lucy Payne
There is something in bringing together a community of artists with a focus on emerging to mid-level writers that is conducive to broadening our minds around:

1. the tools of the trade in regards to writing/creating a play

2. understanding the different experiences in the room with processes around theatre making right through to presentation of a season.

Being able to have constructive dialogue around processes and outcomes in a safe environment has been invaluable to my growth and understanding of what I am trying to achieve with the work I am creating.

Margaret Harvey
This program is a missing piece in the current offerings for emerging creatives in Australia. A structured and supportive environment for emerging playwrights to gather and learn consistently for 15 sessions means that the growth and development of the work and playwrights themselves is immense. To have such an opportunity that does not rely on your ability to afford a course or achieve certain marks to pass, opens up a space of learning that we don't see currently in Australia. This program needs to continue. The offering is too important, too massive, to end.

Bronte Charlotte
It was a truly life altering experience. Reignite my existing work with the new knowledge I have gained from the program. Contact with people who write, discussing structure and different works. Meeting facilitators that have opened my mind to thinking differently about all aspects of writing.

Helen Yotis
Being part of the La Mama Pathways program has been such a valuable thing as a young artist. Having the space to meet and discuss theatre and writing has been wonderful, and has challenged my knowledge and nurtured my skills. I think more programs need to be like this, without the pressure of an institution, just creatives meeting and learning, and growing together. I have learned so much that I would not have been able to without my fellow participants, or the guest speakers who come and give us an insight into the industry. It's been an absolute pleasure, and every artist should get to benefit from a program such as this.

Henry Kelly
The La Mama Pathways Program has given me invaluable insight into the tricks of the theatre trade and allowed me to connect with artists with truly innovative and thought provoking projects. I truly hope the programs leads to these artists getting seasons at La Mama or other theatres because the projects everyone has been working on need to be out there. Here's hoping for the longevity of what has been a really beautiful program.

Vanessa Jo Di Natale
It has been a tremendous privilege to be part of this program. Each session has been so creatively stimulating that I leave feeling every week buzzing with new ideas and provocations. I have particularly loved the chance to share work: there is such an exciting array of voices and approaches to theatre. It is a delight to experience such a variety of works and I cannot wait for more of our sharing opportunities.

Vanessa O'Neill
I've been able to work on my play in a more substantive way. I've been given individual feedback on my play and I can continue to work on it through the classes and future dramaturgy sessions. It also provides a clear pathway on how/when this play could be staged either at La Mama or maybe even somewhere else. Lastly, being surrounded by other playwrights and sharing our experiences gives me more confidence in my craft while gaining more support through these newfound peers. It also facilitates networking and I see myself working on future projects with some of these people. It definitely leaves me feeling more empowered as an emerging theatre-maker.

Yogashree Thirunavukarasu
---
This project has been assisted by the Australian Government through the Australia Council, its arts funding and advisory body.