Blak Stage, curated by Troy Benjamin, is taking over the main stage at La Mama with an exciting line up of First Nations performers. Come along to La Mama Courthouse for an intimate night of storytelling and music.
Homed at The Retreat Hotel Brunswick, Blak Stage is Australia's longest running and only dedicated First Nations Open Mic night. Deadly Events, in collaboration with La Mama, is proud to present some of the regular talent from Blak Stage in what will be a celebration of First Nations voices.
Line up will be announced soon! Keep your eye on this page for all updates.
Amos Roach
Award Winning Musician, Dancer and Director.
Amos Roach is a proud Ngarrandjerri/ Djab Wurrung/Gunditj Mara man.
His music presents a narrative of healing, told with song and dance. Amos's voice travels between the Desert, the Riverland and the Saltwater to the city, like smoke from a fire.
Amos is a cultural practitioner. Traditional First Nations culture informs the fundamentals of his craft. His music is part of the song-line that connects people to culture and Country.
Australian Reggae imagines a fusion of traditional and contemporary indigenous music.
Amos plays his own songs, founded in rhythm with the Didgeridoo and Flamenco influenced Rap music, family ballads and Rock that shakes the ground and compels us to dance.
A lilt of smoke, the Riverland echoes and we can feel the sand and saltwater rushing through the veins of Amos's voice as he carries the song lines from the desert to our ears.
Photo by: Mitch Power
Lauren Sheree
Lauren Sheree is a 23-year-old actor and musician from Wakka Wakka country. Since moving to Naarm in 2016, she began her music career by practising at open mic nights around the city. Lauren uses her ukulele and lyrics to explore growth through the art of catharsis.
Photo credit: Sarah Clarke
Benny Clark
A proud Gunai and Djabwurrung man, Benny has toured the world with some of Australian biggest artists and performers for the last 20 years behind the drum kit.
For the last 10 years Benny has been building up to his path as a solo artist. With his love of storytelling, culture, Acoustic guitar and punk rock values Benny is set to enter the scene as you have never seen him before.
Instagram – @Benny.Clark.Music
Teddy
Teddy is a Gunditjmara & Gamilarai/Yulalilai man born in Naarm in the land of the Woiwurrung/Wurrungdjeri Clan and lives on the land of the Woiwurrung, namely the Allowurrung clan country in Brunswick where Blak stage is held. Teddy has been involved in many bands over the years firstly with the Great Kutcha Edwards in the Watbilimba band. Teddy has played with other great artists such as David Arden in his altogether band, the late Ruby Hunter (R.I.P) and the Rotators with Amos Roach, he also occasionally performs with Amos at Blak Stage Open Mic night. He tunes his guitar not to the standard tone A-440hz but to a healing tone of A-432hz to accompany his healing music so that the audience get the most out of it and healing is possible. Teddy a singer songwriter from the Archie Roach & Ruby Hunter Scholl/school of healing music. 
Aden Hitchins
Aden Hitchins Melbourne's Rookie Stand Up Comedians who is an energetic and an epic class clown. Hi is a proud Gunditjmara man from Heywood Victoria. Some of his credits include; Deadly Funny state heats, Kugari Entertainment, Blak Stage as well as other open mics.
Instagram: @adenhitchins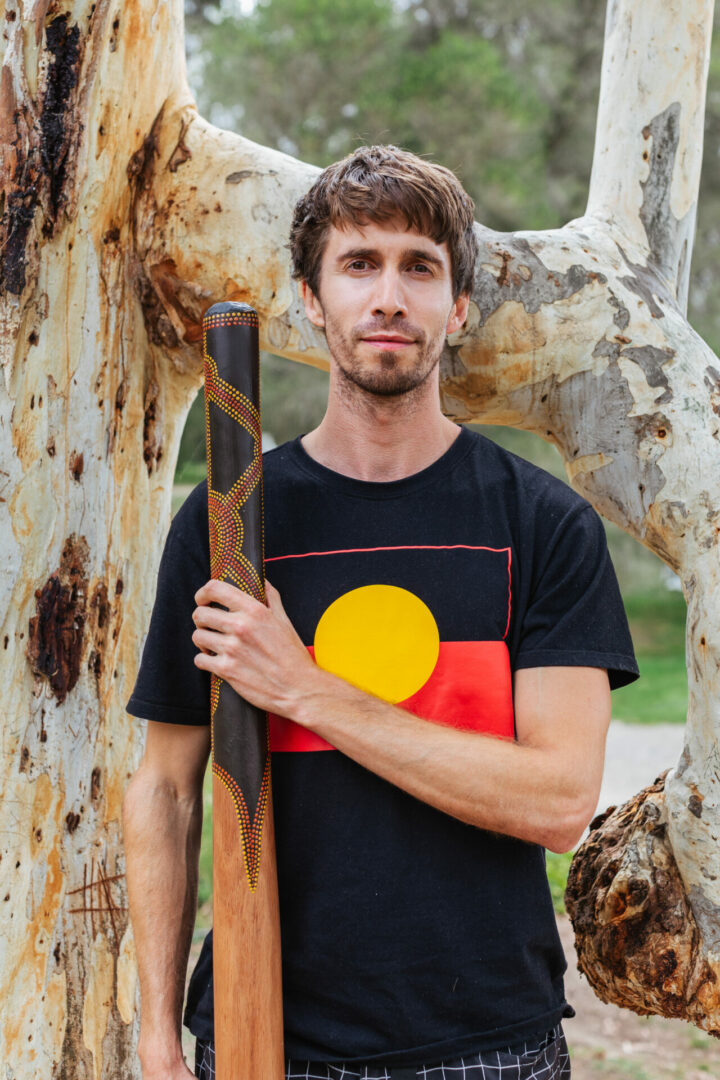 Kiernan Ironfield bio
Kiernan Ironfield is a Dharug man and self taught Yidaki player. Through his music Kiernan creates spaces for to explore thoughts and be lead by the vibrations of the Yidaki. Kiernan acknowledges the Yolngu people as custodians of the Yidaki and the people of the Kulin nation, whose land he lives upon.
Photo credit: Clytie Meredith