Dr Elizabeth Jones, AO
---
---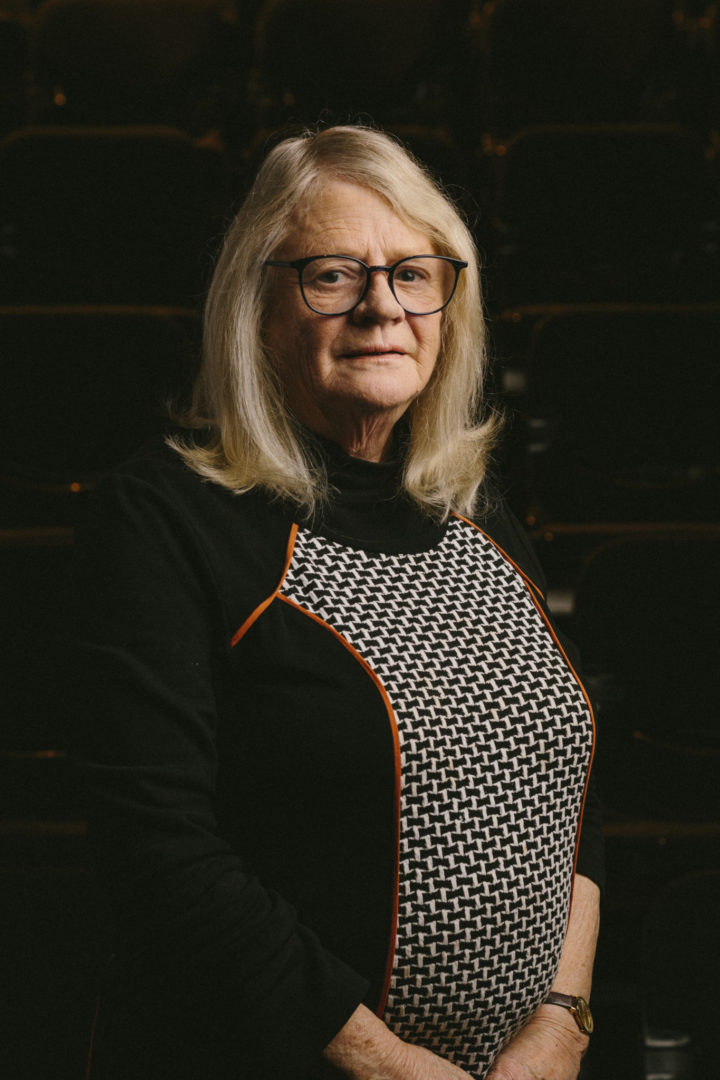 She completed a Bachelor of Arts at the ANU and a Diploma of Education at Sydney University in 1966.
In 1996 she was awarded a Doctor of Laws (honoris causa) from the ANU.
In 2006 she completed a Post Graduate Diploma in Civil Celebrancy at Monash University
In 2012 she was made an Officer of the Order of Australia (AO), the citation specifically mentioning her work with playwrights and the indigenous theatre community.

Liz was educated at eight schools and four universities in Australia, Singapore and the United Kingdom, and also worked as a Volunteer Graduate in Indonesia. In 1971 she met Betty Burstall and in 1973 began working for Betty at La Mama as well as performing there with partner Lloyd Jones. She took over as Artistic Director in 1976.

In 1998 Arts Victoria approached Liz to take over management of the Carlton Courthouse. She accepted and La Mama has managed it very effectively since. In 2017 Working Heritage Victoria have commenced extensive renovations to render it a highly effective theatrical venue, a commitment to the future very much appreciated by the La Mama Community.

Liz has worked as a performance artist with the ensemble led by Lloyd Jones continuously since 1973. She has also worked extensively with a number of directors and ensembles including Ariette Taylor, Suzanne Chaundy, Humphrey Bower, Mammad Aidani, David Pledger and NYID, Margaret Cameron and Aphids, Rachel Maza, Isaac Dranic with Ilbijerri Indigenous Theatre Company, Emma Valente and The Rabble, Samara Hersch and FOLA. In 2014 she commenced work in Albury (Hothouse Residency) with Alicia Talbot on her youth project Night Vision which culminated in a Bundanon Residency involving local Koori/Shoalhaven youth as part of the Siteworks Festival 2016. Since 2014 she has worked with Bagryana Popov in the 'Uncle Vanya-in-Residence Project' in regional Victoria which in 2018 included a residency and performance at Bundanon and participation in the 2019 Adelaide festival.

Liz has been an Australian representative at Women's International Playwrights' Conference in Adelaide (1994) Galway (1997) Manila (where she facilitated Tammy Anderson's I don't Want to Play House and Andrea James Yanagai Yanagai in 2003)
Sweden (2012) and Cape Town (2015) as performer, director and facilitator.
In 1999 and 2001 she travelled to Europe, UK and USA as a Churchill Fellow to study the relationship between theatre and the community in key cities.

In 1995 Liz was awarded the 1994 Kenneth Myer Medallion for the Performing Arts. In 2000 she was awarded the Sidney Myer "Facilitator's" Award and in 2001 Liz received the Green Room Lifetime Achievement Award. In 2002 she was placed on The Victorian Women's Honour Roll and in 2008 received the Dorothy Crawford AWGIE for her contribution to playwriting. She received the 2018 Australia Council Award for Theatre and in 2019 was presented with The Sue Natrass Award by Live Performance Australia.

Liz lives in Newport with her husband performance maker Lloyd Jones. She has five beloved children, three brilliant daughters-in-law and nine exciting grand children.
In March 2023, 50years after her first involvement at La Mama Liz will hand the baton on to Caitlin Dullard, remaining on staff to work on reclaiming the history destroyed in the 2018 fire, and assisting with script appraisal and mentorships.